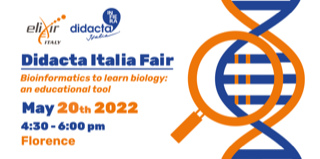 ELIXIR-IIB will present the seminar "Bioinformatics to learn biology: an educational tool" at the Didacta Italia Fair, the most important event about innovation and the future of school which will take place from 20 to 22 May 2022 at the Fortezza da Basso of Florence. The seminar will be dedicated to bioinformatics, and its potential as a tool for teaching and learning biology.
Through a practical and effective approach, the ELIXIR-IIB training platform will show high school teachers how to use bioinformatics resources and tools to study selected topics of biology, such as the structure of DNA and proteins or the function and the evolution of the genome. In this way, it will be possible to understand how bioinformatics can be a valid teaching support tool for exploring and understanding biology. In other words, we do not propose to include bioinformatics in high school curricula as a separate discipline, but to use its resources and tools to learn biology.

In the first part of the seminar, we will illustrate some bioinformatics resources that can be used for the study of selected topics of molecular and cellular biology. The second part will be dedicated to discussing the challenges and difficulties of the proposed approach with the high school teachers attending the seminar. ELIXIR-IIB will also offer participants a follow-up training course for learning bioinformatics resources and tools useful for teaching biology in an effective and innovative way.
Speakers
Allegra Via (CNR-IBPM) allegra.via@cnr.it
Francesca De Leo (CNR-IBIOM) francesca.deleo@cnr.it
Luana Licata (Università of Rome "Tor Vergata" e Human Technopole Foundation, Milan) luana.licata@uniroma2.it 
Anna Marabotti (Department of Chemistry and Biology "A. Zambelli", Università of Salerno) amarabotti@unisa.it
You can register for the seminar at the following link: https://fieradidacta.indire.it/eventi/la-bioinformatica-per-apprendere-la-biologia-uno-strumento-didattico-innovativo/
Read here too: https://www.cnr.it/it/evento/17852